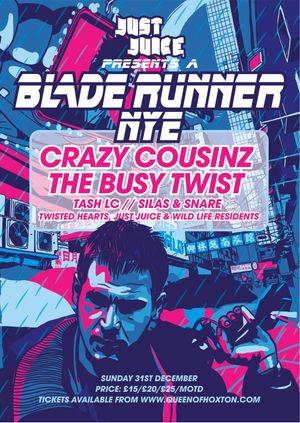 NYE Blade Runner Special
31st Dec 2017 8pm - 3am
Add to Calendar
Event Details
NYE AT OUR SISTER VENUE HOXTON SQUARE BAR & KITCHEN
Lineup: w/ Crazy Cousinz, The Busy Twist, Silas & Snare, Tash LC
Just Juice presents a Blade Runner NYE w/ Crazy Cousinz & The Busy Twist!
This NYE the Tyrell corporation invites you to join us for a party of epic proportions! Dance through the streets of downtown LA or step inside Tyrell HQ and see what your life could be like on an OFF WORLD colony…

As always you can expect a carnival of sights and sounds from the East London party crew as they transform the venue into a neon-soaked circus of delectable delights. With headline sets from Crazy Cousinz, The Busy Twist & Tash LC as well as takeovers from Twisted Hearts Club, Just Juice and Wild Life residents.

That's right this NYE, Just Juice and Queen of Hoxton are back and taking you on a Sci-fi journey like no other, to celebrate both the release of the new Blade Runner movie this year and also the 35th anniversary of one of cinema's most revered movies...

As you arrive on the ground floor, you can expect to find yourselves deep within downtown Los Angeles in Ridley Scots 2019. Explore China Town and discover yourself in our backstreet neon disco with Twisted Hearts, Just Juice and Wild Life residents all mixing up the best party music around. Look out for replicants and Blade Runners a-like as you wind your way down to the basement club where the party really begins, in Tyrell HQ!

Our basement will be transformed into Tyrell HQ's pyramids, complete with replicants, visuals, décor and of course the usual blend of bass-heavy beats you have come to expect from Just Juice to get your musical juices flowing and booty's bouncing.

There will be face painters, confetti, festival décor, games, giveaways and more as we welcome some of the UK's finest and most well-respected DJs / producers in the form of Crazy Cousinz, The Busy Twist (Soundway records), Silas & Snare (Kaizen) and Tash LC (Boko! Boko!).
Finally, as always, you'll be getting the usual décor and over the top theatrics you've come to expect from Just Juice and Queen of Hoxton so play by the rules of the Tyrell Corp and come dressed up (encouraged not compulsory) and let's bring in 2018 in style!
Price: Super Early Birds £10 / Early Bird £15 / Tier 1 £20 / Tier 2 £25
Times: 8pm – 3am

Music Policy: Tropical House, Hip-hop, Bashment, Grime, UK Funky and Party Anthems