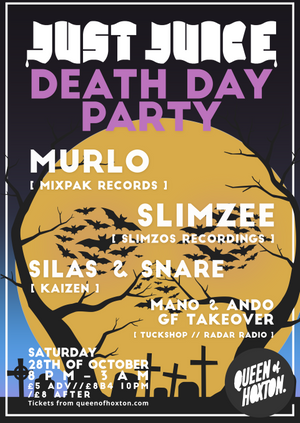 Just Juice - Death Day Halloween w/ Murlo & Slimzee
28th Oct 2017 8pm - 2am
Add to Calendar
Event Details
This Halloween,
Just Juice
is taking over
Queen of Hoxton
for a special Día De Los Muertos Death Day Party!
Join us and headliners
Murlo
(
Mixpak
) &
Slimzee
(
Slimzos Recordings
) for a trip across the Atlantic visiting the sights, sounds, and music of a Mexican 'Day of the Dead' carnival. You can expect the usual crazy décor and over the top production, you've come to expect from Just Juice and Queen of Hoxton teams as well as lots of spooky surprises.
Musically speaking, we are hyped to announce that we will be joined by Grime and Bass music royalty in the form of Murlo & Slimzee, this dynamic duo will be leading the parade in the basement which will be hosted by residents Silas & Snare.
Hailing from Manchester Murlo is well renowned for pushing an extremely varied output informed in equal parts by his love of dancehall, soca, garage, bassline, grime and more. Alongside him, Rinse FM co-founder Slimzee, aka the "Godfather of Grime" will be plying his dub-plate heavy sound in the basement to get your feet moving!
Residents
Silas & Snare
round off the basement line up, bringing their signature party sound. It's safe to say, we are expecting more of the usual bass heavy carnival riddims provided by our resident duo and their heavy weight selection of guests.
On the ground floor, you will find Just Juice & Queen of Hoxton friends & family
Manu & Ando
(
Tuckshop.
/
Bite Size Music
) hosting all night with their unique brand of carnival Hip-hop, house, disco, afrobeat and more.
So, Don your finest freaky frocks, paint those Candy Skull faces and, we'll dance the floor to death!!
Music Policy: Carnival Beats, Garage, Grime, Hip-hop, House + More
Price: £5 + BF ADV // MOTD