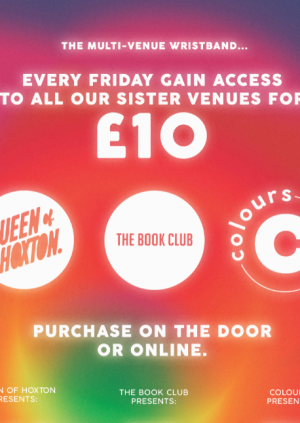 Multi Venue Wristband
13th Mar 2020 5pm - 2am
Add to Calendar
2020-03-13 17:00:00
2020-03-14 02:00:00
Europe/London
Multi Venue Wristband
If you fancy hitting up a few of the Shoreditch hot spots on a Friday night then look no further! For £10 per person you and your crew have entry to three of the best bars in East London; Colours Hoxton, Queen of Hoxton & The Book Club. This ticket will not only give you access to the bars all night long but you'll also skip the queue. **Please note; entry is subject to venue capacity. We have the right to refuse entry if any of your party are intoxicated or misbehaving**Collect your wristband on the door of your first venue.  https://queen-of-hoxton.eventcube.io/events/23719/multi-venue-wristband
1-5 Curtain Road, London, Greater London, EC2A 3JX
Event Details
If you fancy hitting up a few of the Shoreditch hot spots on a Friday night then look no further!
For £10 per person you and your crew have entry to three of the best bars in East London; Colours Hoxton, Queen of Hoxton & The Book Club. This ticket will not only give you access to the bars all night long but you'll also skip the queue.
**Please note; entry is subject to venue capacity. We have the right to refuse entry if any of your party are intoxicated or misbehaving**
Collect your wristband on the door of your first venue.