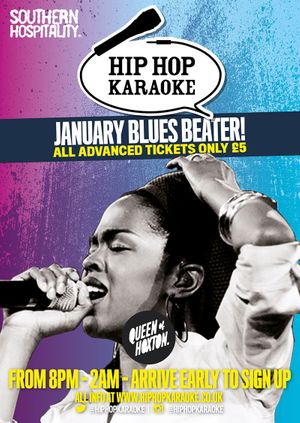 Hip Hop Karaoke
16th Jan 2020 8pm - 11:59pm
Add to Calendar
Event Details
Thursdays in Shoreditch just got better...

We're super excited to announce that the UK's Original Hip Hop Karaoke and one of London's most legendary weekly events takes a NEW WEEKLY Thursday residency at the Queen Of Hoxton!

Over the years Hip Hop Karaoke has established itself as a a true 'bucket list' experience at both their London and national residencies and all major UK festivals and has seen thousands of amateurs and more than a few celebs on stage with DJ Rob Pursey, Host Bobby Champagne Jr. and the extended Hip Hop Karaoke family.

Whether you want to go classic with some Biggie, Missy or The Fugees or keep it right now with Drake, Kendrick Lamar or Kanye, this is your chance to live out your rap fantasies to London's most loving crowd. With hundreds of rap songs to choose from, all those years of rapping along in clubs, in the car, or in front of a mirror have lead to this moment!

Lose yourself!