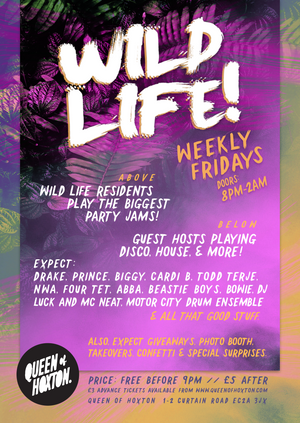 Wild Life W/ Alex Barrett & Faceless LDN
13th Dec 2019 8pm - 2am
Add to Calendar
2019-12-13 20:00:00
2019-12-14 02:00:00
Europe/London
Wild Life W/ Alex Barrett & Faceless LDN
East London's favourite Friday night party spot, Wild Life! takes over Queen of Hoxton every Friday with the best in House, Disco, Hip-hop, R&B and Electro around. Expect two floors of music as we welcome the best local brands, DJs and residents to throw you into the weekend.On the ground floor our resident Alex Barrett will be getting the weekend started in a house party fashion, expect the best party jams from the likes of Prince, M.I.A., Drake, Fleetwood Mac, Metronomy, Childish Gambino, Beyoncé, LCD Soundsystem, Jay Z and much more to get your feet stomping and booties bouncing! Grab a cocktail from the ground floor and head to the basement for a late-night dance music affair as we have Faceless LDN dishing out a delectable mix of House, Disco, Tech House, Lo-fi and Electro Party-flavour-floor-fillers into the wee hours. Our takeover guests always bring the heat as they deliver their own unique take on their slice of the UK dance music scene to East London, all pumping through our huge Funktion One system!And as always, no party at Queen of Hoxton would be the same without the unexpected so keep an eye out for décor, giveaways, confetti cannons and more, and start your weekend right! Music policy: House, Disco, Hip-hop, RnB, Bass, Garage and more!Price: Free before 9pm // £5 before 11pm // £7 after 11pm – Advance tickets are limiter to 100 only and only guarantee entry before 10pm but grab one from www.queenofhoxton.comGuest list: Our £3 guest list is limited - to be added to the guest list, purchase one of our free guest list tickets and your name will be added to the list. You will be required to pay £3 on the door. https://queen-of-hoxton.eventcube.io/events/21993/wild-life-w-alex-barrett-faceless-ldn
1-5 Curtain Road, London, Greater London, EC2A 3JX
Event Details
East London's favourite Friday night party spot, Wild Life! takes over Queen of Hoxton every Friday with the best in House, Disco, Hip-hop, R&B and Electro around. Expect two floors of music as we welcome the best local brands, DJs and residents to throw you into the weekend.
On the ground floor our resident Alex Barrett will be getting the weekend started in a house party fashion, expect the best party jams from the likes of Prince, M.I.A., Drake, Fleetwood Mac, Metronomy, Childish Gambino, Beyoncé, LCD Soundsystem, Jay Z and much more to get your feet stomping and booties bouncing!
Grab a cocktail from the ground floor and head to the basement for a late-night dance music affair as we have Faceless LDN dishing out a delectable mix of House, Disco, Tech House, Lo-fi and Electro Party-flavour-floor-fillers into the wee hours. Our takeover guests always bring the heat as they deliver their own unique take on their slice of the UK dance music scene to East London, all pumping through our huge Funktion One system!
And as always, no party at Queen of Hoxton would be the same without the unexpected so keep an eye out for décor, giveaways, confetti cannons and more, and start your weekend right!
Music policy: House, Disco, Hip-hop, RnB, Bass, Garage and more!
Price: Free before 9pm // £5 before 11pm // £7 after 11pm – Advance tickets are limiter to 100 only and only guarantee entry before 10pm but grab one from www.queenofhoxton.com
Guest list: Our £3 guest list is limited - to be added to the guest list, purchase one of our free guest list tickets and your name will be added to the list. You will be required to pay £3 on the door.