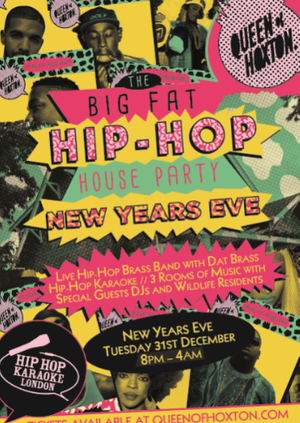 BIG FAT HIP HOP HOUSE PARTY NYE (SOLD OUT) - 50 Tickets available OTD from 8pm. First come, first served
31st Dec 2019 8pm - 4am
Add to Calendar
Event Details
This New Years Eve we are bringing back London's biggest Hip-hop House party with the best Hip Hop brass band in town; Dat Brass, the legendary Hip Hop Karaoke and a selection of our best resident djs playing across 3 rooms of music.
On the ground floor, our Wild Life & Queen of Hoxton residents will be supplying a History of hip-hop over the evening, playing the biggest hits from across the years, starting things off with the funk and soul samples that made the music and going all the way through to the present day!
In the basement, London's Original Hip Hop Karaoke take over giving everyone the opportunity to discover what it's like busting out some Busta, or to drop it like it's hot. Whether you want to go classic with some Biggie, Missy or The Fugees or keep it right now with Drake, Kendrick or Kanye, this is your chance to live out your rap fantasies to London's most loving crowd and share a stage with R&B royalty aka DJ Rob Pursey, Host Bobby Champagne Jr. and the extended Hip Hop Karaoke family. Then at midnight we treat you to London boys Dat Brass who will be laying down brass licks, sax riffs, rap spits & hat hits to your favourite Hip Hop bangers, and of course good old bit of Auld Lang Syne.
Whilst in room 3 we will be offering up some disco/pop goodness for anyone who fancies a night of dancing along to your favourite guilty pleasures!
This is the closest we normal folk will get to live it up like the real hip hop big players, with a house party across one of East London's most iconic venues, spread across 3 rooms! So don your furs, dust off your cane and let's start popping bottles!
Tuesday 31st December
8pm – 4am
GF

8.00pm - 4.00am Wildlife Residents

Basement

8.00pm - 10.00pm - Hip hop Kareoke
10.00pm - 11.30pm - Hip Hop Kareoke DJs
11.30pm - 1.00am - Dat Brass
1.00am - 4.00am - J Felix

Early bird General Admission tickets from £10
Exclusive Rooftop tickets with a welcome glass of prosecco. Tables are available to book in our heated wigwam on the roof subject to minimum spend with food and drink packages available.

Private booths available in the main room to be in the heart of the action with Hip Hop Karaoke and the brass band.
Please book tickets first and then contact meg@mothershipgroup.com or call 0203 8898 721 to book a table.
Please note: Rooftop will shut at 12.30pm and everyone will be ushered down to the club.