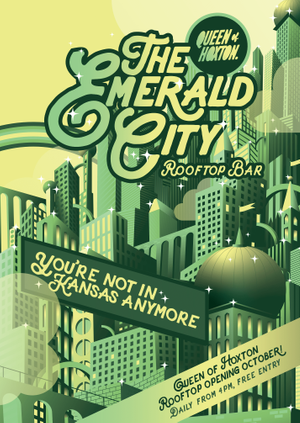 Emerald City Winter Rooftop Launch
24th Oct 2019 5pm - 11:59pm
Add to Calendar
2019-10-24 17:00:00
2019-10-24 23:59:00
Europe/London
Emerald City Winter Rooftop Launch
This winter escape with us to a glittering Emerald realm where nothing is quite what it seems and even the beer runs green... but one thing's for sure, you're not in Kansas anymore. From October 24th, Queen of Hoxton's Shoreditch rooftop will be going green. Climb the yellow brick road up to our cosy rooftop WigWam where you'll find a bewitching green den. Feast on hearty Kansas style food before continuing along the golden path to our Emerald Garden. Here you'll find fire pits to toast marshmallows around, and walls glistening with Emerald jewels, as well as a hidden bar serving up hot and cold green cocktail delights. As usual we'll have a series of immersive events to entertain, inspire and excite you through the long winter nights. This Autumn/Winter we will be celebrating the season of the witch at Queen of Hoxton. Join our coven and enrol for witch academy classes. Learn Pxssy magic and how to cast spells, gather around our firepits with a mulled wine to hear feminist witch storytelling and shop for everything from sage smudging sticks to Yoni wands at our winter witch craft market in the WigWam.  We'll also be hosting green eco-events such as a big green clothes swap and pickling workshops to make Christmas gifts from kitchen scraps. Attend our facebook event HERE https://queen-of-hoxton.eventcube.io/events/21479/emerald-city-winter-rooftop-launch
1-5 Curtain Road, London, Greater London, EC2A 3JX
Event Details
This winter escape with us to a glittering Emerald realm where nothing is quite what it seems and even the beer runs green... but one thing's for sure, you're not in Kansas anymore.
From October 24th, Queen of Hoxton's Shoreditch rooftop will be going green. Climb the yellow brick road up to our cosy rooftop WigWam where you'll find a bewitching green den. Feast on hearty Kansas style food before continuing along the golden path to our Emerald Garden. Here you'll find fire pits to toast marshmallows around, and walls glistening with Emerald jewels, as well as a hidden bar serving up hot and cold green cocktail delights. As usual we'll have a series of immersive events to entertain, inspire and excite you through the long winter nights.
This Autumn/Winter we will be celebrating the season of the witch at Queen of Hoxton. Join our coven and enrol for witch academy classes. Learn Pxssy magic and how to cast spells, gather around our firepits with a mulled wine to hear feminist witch storytelling and shop for everything from sage smudging sticks to Yoni wands at our winter witch craft market in the WigWam. We'll also be hosting green eco-events such as a big green clothes swap and pickling workshops to make Christmas gifts from kitchen scraps.
Attend our facebook event
HERE