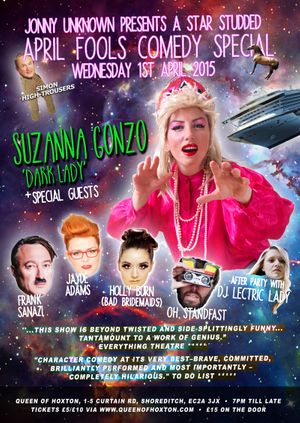 April Fools with Suzanna Gonzo: The Dark Lady
1st Apr 2015 7pm - 12am
Add to Calendar
2015-04-01 19:00:00
2015-04-02 00:00:00
Europe/London
April Fools with Suzanna Gonzo: The Dark Lady
JONNY UNKNOWN PRESENTS: 'A star studded APRIL FOOLS NIGHT with SuZanna GonZo: 'DARK LADY'  A 5 star character comedy show by Katie O'Brien with special guests:HOLLY BURN (BAD BRIDEMAIDS) & OH STANFESTFRANK SANAZIJAYDE ADAMS Plus afterparty with DJ Lectric Lady  Price: £5 early bird, £8 standard, £12 on the door  SUZANNA GONZO: DARK LADY Traumatised by her own homicidal tendencies, cruise-ship entertainer SuZanna GonZo lost her singing voice but found redemption as an exceptionally gifted healer. Now she travels the world sharing her unique and inspirational story to help change the lives of others.  Expect to be immersed into a delicious story of love, lust, loss, licking and lying! Make sure you book your ticket NOW as this ride promises to be one hilarious face aching journey as you discover your inner truth. Yes people it's time to 'Reveal and Heal!' ★★★★★ To Do List  "Character comedy at its very best – brave, committed, brilliantly performed and – most importantly – completely hilarious."  ★★★★★ Everything Theatre  ...''This show is beyond twisted and side-splittingly funny...tantamount to a work of genius.'  https://queen-of-hoxton.eventcube.io/events/2040/april-fools-with-suzanna-gonzo-the-dark-lady
1-5 Curtain Road, London, Greater London, EC2A 3JX
Event Details
JONNY UNKNOWN PRESENTS:
'A star studded APRIL FOOLS NIGHT with SuZanna GonZo: 'DARK LADY'
A 5 star character comedy show by Katie O'Brien with special guests:

HOLLY BURN (BAD BRIDEMAIDS) & OH STANFEST
FRANK SANAZI
JAYDE ADAMS

Plus afterparty with DJ Lectric Lady
Price: £5 early bird, £8 standard, £12 on the door
SUZANNA GONZO: DARK LADY
Traumatised by her own homicidal tendencies, cruise-ship entertainer SuZanna GonZo lost her singing voice but found redemption as an exceptionally gifted healer. Now she travels the world sharing her unique and inspirational story to help change the lives of others.
Expect to be immersed into a delicious story of love, lust, loss, licking and lying!
Make sure you book your ticket NOW as this ride promises to be one hilarious face aching journey as you discover your inner truth.
Yes people it's time to 'Reveal and Heal!'
★★★★★ To Do List
"Character comedy at its very best – brave, committed, brilliantly performed and – most importantly – completely hilarious."
★★★★★ Everything Theatre
...''This show is beyond twisted and side-splittingly funny...tantamount to a work of genius.'