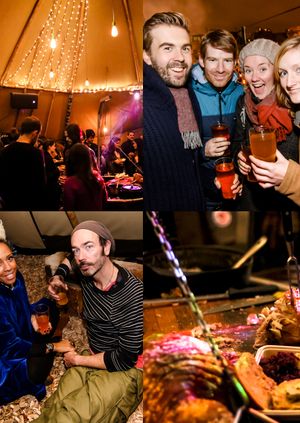 The Cider Box presents: FIRST PRESSINGS 2015
28th Mar 2015 11am - 6pm
at Queen Of Hoxton Rooftop Terrace
Add to Calendar
Event Details
THE CIDER BOX PRESENTS THE FIRST PRESSINGS OF 2015
Hosted in the rooftop WigWamBam
12pm - 7pm
Tickets:
Standard £15 tickets
(includes 1 dish from grill menu, 2 x half pints of cider, one of the tutored cider tasting sessions at either 1pm / 2.30pm / 4pm)
Golden £20 tickets very limited
(includes 1 dish from grill menu, 2 x half pints of cider, a non-time specific tutored cider tasting session, plus a cheese tasting and cider brandy toast)


Join The Cider Box for a special afternoon session taking place in the Queen of Hoxton's rooftop WigWamBam, celebrating a truly vintage year for cider, after one of the best harvests in an age.
Complementing these magnificent juices will be a specially curated food menu, cooked on WigWamBam's famous schwenk-grill right in the middle of the rooftop. Think juicy pulled pork with an apple & cider BBQ gravy, lemon & thyme chicken, delicious winter vegetables and a hearty mushroom, sweet potato and spinach pie.


Cider tasting sessions
We'll be holding 30 minute cider tasting sessions at specific times throughout the day (each standard ticket will have it's own slot), hosted by Hawkes London cider company famed for their urban cider making and The Cider Box founder and British Cider Championships judge, Daniel Heath. There'll also be a talk from Emma Zang from the brilliant French cidermakers Cidre 2 who'll be giving a fascinating insight into the world of cidre.
Cheese tasting
If you're quick enough to buy one of our Golden tickets, then you'll be able to take part in a delicious cheese tasting workshop hosted by Raw Cheese Power which will be the perfect accompaniment to all the ciders available to taste and buy on the day!
12pm - 9pm Full cider bar run by The Cider Box
Acoustic music provided by Apple of My Eye.
TICKETS FOR THIS EVENT ALWAYS SELL OUT SO GRAB ONE NOW TO AVOID DISAPPOINTMENT!