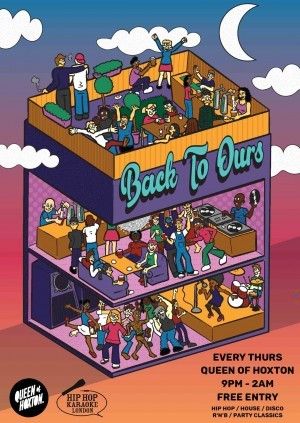 Back to Ours – Free Entry Every Thursday
3rd Oct 2019 8pm - 2am
Add to Calendar
2019-10-03 20:00:00
2019-10-04 02:00:00
Europe/London
Back to Ours – Free Entry Every Thursday
Thursday nights just got turned up to 10 at Queen of Hoxton with the new weekly house party, Back To Ours! Expect to be transported back to the house party's of your youth, where you and your mates controlled the playlist Soundsystem, you downed booze still watered down from last time you stole it from your parents booze cupboard and you chugged a pack of cigs your older brother bought for you! You can expect 3 floors of the best bumper thumping party tunes and booty bouncing house party bangers from classic Hip-hop to House, Classic UKG too R&B floor fillers and where you have the chance to take control of the music by voting for tracks that will get played in the mix on the night as well as our resident DJs taking requests all night long!Every Thursday, Queen of Hoxton transforms into a 3 floor house party, with games, décor, giveaways and production from Fables Creative transforming the venue into the ultimate house partys of your youth. As well as our ground floor house party, head down to the basement club to join Londons Legendary Hip Hop Karaoke (£7 charge) and perform like your hiphop heroes and heroins or up to the rooftop to indulge in food, drinks and imurse yourself in our rooftop themes. For more info, go to www.facebook.com/rooftopatqueenofhoxton ! We cant wait to start/end our Thursday nights by heading "Back to Ours"! When: Every Thursday (excluding Easter Thursday)Price: FREETimes: 8pm – 2amMusic Policy: House, Garage, R&B, Disco, Funk, Soul & More! https://queen-of-hoxton.eventcube.io/events/19879/back-to-ours-free-entry-every-thursday
1-5 Curtain Road, London, Greater London, EC2A 3JX
Event Details
Thursday nights just got turned up to 10 at
Queen of Hoxton
with the new weekly house party, Back To Ours! Expect to be transported back to the house party's of your youth, where you and your mates controlled the playlist Soundsystem, you downed booze still watered down from last time you stole it from your parents booze cupboard and you chugged a pack of cigs your older brother bought for you!
You can expect 3 floors of the best bumper thumping party tunes and booty bouncing house party bangers from classic Hip-hop to House, Classic UKG too R&B floor fillers and where you have the chance to take control of the music by voting for tracks that will get played in the mix on the night as well as our resident DJs taking requests all night long!
Every Thursday, Queen of Hoxton transforms into a 3 floor house party, with games, décor, giveaways and production from
Fables Creative
transforming the venue into the ultimate house partys of your youth. As well as our ground floor house party, head down to the basement club to join Londons Legendary
Hip Hop Karaoke
(£7 charge) and perform like your hiphop heroes and heroins or up to the rooftop to indulge in food, drinks and imurse yourself in our rooftop themes. For more info, go to www.facebook.com/rooftopatqueenofhoxton !
We cant wait to start/end our Thursday nights by heading "Back to Ours"!
When: Every Thursday (excluding Easter Thursday)
Music Policy: House, Garage, R&B, Disco, Funk, Soul & More!