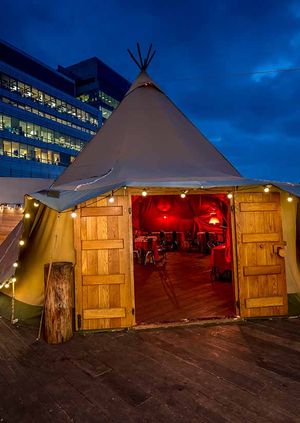 Pancake Day at the Queen of Hoxton and Rooftop
5th Mar 2019 4:30pm - 7:30pm
Add to Calendar
Event Details
This Shrove Tuesday (5th March), head to the Queen of Hoxton for some Red Velvet Pancakes at Lady Celeste's rooftop hideaway.

We'll also have a MAKE YOUR OWN pancake station on the ground floor of the Queen of Hoxton!

Order your pancakes on the ground floor and head up to the rooftop to enjoy (first come first served and subject to capacity)

Summer's still most definitely flippin miles away, so make the most of cosy season in our Moulin Rogue inspired Winter rooftop WigWam draped in red velvet, or round a giant firepit with a hot buttered rum or mulled port to wash down your pancakes

We'll also be serving up buttermilk pancakes with build your own toppings stations on the ground floor. Pancakes will be available from 4-9.30pm

This winter, Queen of Hoxton invites you to step back in time to 1900s surrealist Paris.

Our cosy rooftop Wigwam has been transformed into a music hall hidden amongst the back-ally Bohemia of Montmartre. Sip on Hot Tarte Tatin Rum in our den of debauchery, dripping in velvet drapes and complete with cabaret tables and curious characters. Warm up with Parisian spiked hot chocolate, a sharing fountain of Absinthe, or Mulled Port and Wine cocktail.

Feast on cheese and wine from our little Paris kitchen, where we'll be serving up Raclette covered delights like "The Moulin Ooze" - a Mustard Washed Toasted Sandwich With Gruyere Cheese, Raclette, Lady Marmalade Onions & Dijon Mustard. Or The Henri Toulouse Burger - Beef Patty Charred Toulouse Sausage covered with Gruyere Cheese in honour of the French artist.

Outside, meander through the romantic lights and warming fire pits in our rooftop garden to discover the local Absinthe bar and experience both sides of 1990s Parisian excess. Expect grandeur and glory, seedy seductresses and a creative world where Bohemians and aristocrats rub elbows and revel in the electrifying enchantment of this decadent and debauched world.

Make sure you catch Lady Celeste's before she dissapears once more at the end of Spring...