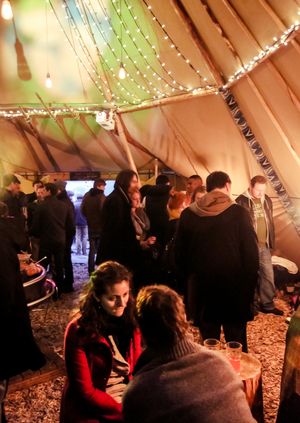 Republic of Somerset: A Winter's Feast
15th Nov 2014 11am - 6pm
Add to Calendar
Event Details
THE CIDER BOX PRESENTS: REPUBLIC OF SOMERSET- A WINTER FEAST
Join The Cider Box for a special afternoon session celebrating real cider straight from the Somerset presses! On the back of two sold out events, they return to Queen of Hoxton's rooftop WigWamBam in the company of 30 traditional ciders for the pickings.

Each ticket includes four half pints and a meal from circle grill with a specially curated food menu including:

Flamed grilled pork chop with sweet potato, curly kale & pea hot pot with apple cider sauce
Homemade apple, mustard & sage sausage patties with colcannon mash & gravy
Pumpkin, squash & vegetable pie with cider & cheddar sauce. (V) 

Alongside there'll be tutored tasting sessions, acoustic music, lashings of mead and maybe even a drop of Somerset Cider Brandy.

Come, toast the winter, and celebrate old Britain's greatest export: Cider.
Time: 12pm - 7pm
Price: £15