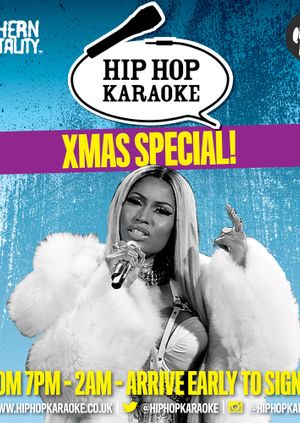 Hip Hop Karaoke Christmas Special
20th Dec 2018 8pm - 2am
Add to Calendar
Event Details
Drop those Christmas shopping bags and come and join us for Hip Hop Karaoke on the 20th Dec for this bumper Christmas special. Expect all the usual fun plus Hip Hop Santa and a bumper sack of rap songs to belt out and get suitably into the silly season.
Other festivities at this Christmas spesh will include discovering 'the best Wrapper of all time' as two rap wannabes attempt to Wrap their Christmas presents while they rap live on stage. As well as the 'Wrap Off, Santa will be giving out presents for performers including free entry to future events and much more.
Happy Holla Days!
Hip Hop Karaoke:
Over the years Hip Hop Karaoke has established itself as a true 'bucket list' experience at both their London and national residencies and all major UK festivals and has seen thousands of amateurs and more than a few celebs on stage with DJ Rob Pursey, Host Bobby Champagne Jr. and the extended Hip Hop Karaoke family. Whether you want to go classic with some Biggie, Missy or The Fugees or keep it right now with Drake, Kendrick Lamar or Kanye, this is your chance to live out your rap fantasies to London's most loving crowd. With hundreds of rap songs to choose from, all those years of rapping along in clubs, in the car, or in front of a mirror have lead to this moment!
Tickets available
Here!