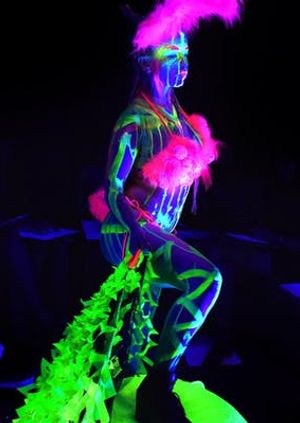 Neon Naked Life Drawing
29th Oct 2018 7:30pm - 9:30pm
Add to Calendar
Event Details
Draw in UV with Neon Naked Life Drawing!
Join us in East London for an evening of vibrant artistic fun. Come to a life drawing class like no other using neon reactive arts materials to draw inspiringly colourful life models.
This class explores creative drawing, moving away from the perfectionist traditional teachings of life drawing. By trying out a number of different image making techniques from continuous line to pointilism the artists are encouraged to think outside the box and create more unusual imagery.
As described in TimeOut Magazine as 'It might look like a Full Moon party, but this evening of sketching is an experiment in light, colour and texture. The models become 'living sculptures' covered in UV lights and reactive body paints. Trippy.'
Neon Naked is a new and unique life drawing experience that specializes in creating unusual and creative designs by using vibrant and bold living sculptures. By combining an industrial UV light and reactive body paints with hand crafted flamboyant accessories its easy to get the creative juices flowing.
The class starts off with some quick and fun drawing exercises to get you warmed up. Then goes into longer drawing times with more exciting life images, experimenting with colour, light and texture.
Art supplies are provided however please feel free to bring your own. With essentials such as pencil, paper and drawing boards but also you can use the fluorescent glowing neon pastels to really make your art pop!